Nusa Penida Tour
Price : USD 70/ person
Package options :
East Nusa Penida Tour
West Nusa Penida Tour
East Nusa Penida Tour
Nusa Penida can be claimed as one of the most beautiful islands in Bali. With natural beauty that is still very natural and rarely visited by tourists, Nusa Penida presents a variety of unique natural nuances that you might not be able to meet in any corner of the world.
Intinerary:
Atuh Beach
Diamond beach
Tree House / Thousand island
Bukit Telletubies hill
Back to Hotel
Atuh Beach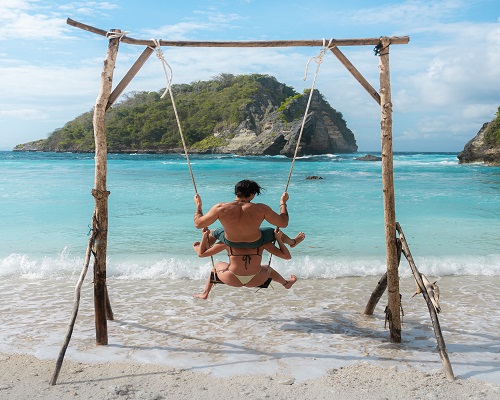 Atuh beach is a beach located in the eastern area of ​​Nusa Penida, is a very popular new tourist attraction in Nusa Penida because this beach offers natural beauty with clear water and the atmosphere of the beach surrounding the cliffs adds to the beauty of this beach. Atuh beach is perfect for swimming with a stretch of white sand to make the atmosphere more beautiful swimming. To reach the beach location or you can go down the stairs provided, you need good stamina to be able to go down the road to the beach. no wonder if this beach is very popular among domestic and foreign tourists because this beach is suitable for those who want to enjoy the atmosphere of a calm beach, not crowded and the scenery around a beautiful beach

Diamond Beach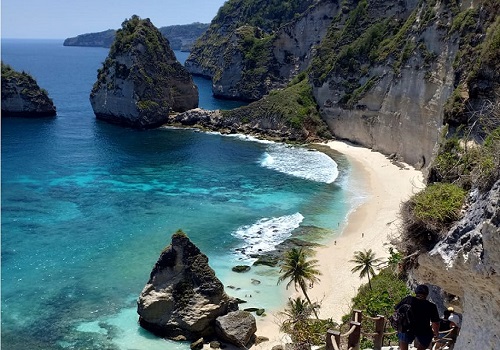 Diamond Beach is a beach that was just introduced and immediately attracted attention to foreign and domestic tourists, where the beach is no less interesting than other beaches in Nusa Penida, with white sand and clear water making this beach frequented by tourists who visited the eastern region of Nusa Penida. In addition to white sand and clear water, the scenery around Diamond Beach is also beautiful where the beach is surrounded by cliffs. Local people call this beach as diamond beach because in the middle of the beach there are rocks which if seen as diamonds shape, so the locals call this beach with name diamond beach. To get to the beach you need to walk through the stair down was provide in this beach, need good stamina for go back through stair up.

Pulau Seribu/Raja Lima
Before you arrive at Raja Lima, you have to go through Thousand Islands first. The difference is only one, which is in the spot of King Lima, there are statues, while there are none at Seribu Island.In order to reach this location, you have to trek through steep and rocky roads. For those of you who are not used to trekking, you should keep the spirit going because at the end of the trekking trip you will be presented with an amazingly beautiful scenery.

Tree house/ Rumah Pohon Molenteng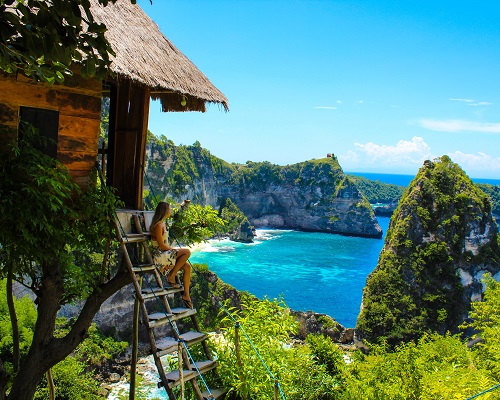 Tree House Molenteng is a small wooden house located on a rock cliff with views of a stretch of beach, this tourist attraction is very famous in the east because it offers a beautiful view of the beach from a tree house, from this place you can see the stretch of beach from above and see the waves that hit the rocks and cause splashes of water that are very beautiful. No wonder this place is very popular with foreign and domestic tourists because it offers a different sensation. The location of the Molenteng tree house is not far from the Diamond Beach location, often visited by tourists after visiting the Diamond Beach. this place is very suitable as a background for photography, our driver will always help you if you need help taking photos with the camera

Bukit Telletubies hill
Telletubies Hill is a tourist attraction in the eastern area of ​​Nusa Penida, where this tourist attraction offers a very beautiful hill view, where the shape of the hill is shaped like hills in teletubis films with round shapes and green grass, because the shape is similar to the shape of a hill in the teletubis film, the locals call this hill the name teletubies hill. in this place the hill is not just one but there are several hills that are the same shape as the teletubies hill, truly a very beautiful and amazing scenery, suitable as a backdrop of photography. The green grass and cool atmosphere make this trip more enjoyable, Enjoy an incomparable view of the beauty of this place, our driver will always help you capture the moment with the camera in this place.
Bali East Nusa Penida Tour Packages Itinerary :
06.30 – Pick up at the hotel (defend on your hotel location)
08.00 – Arrive at Sanur Port and go to Nusa Penida by using Speedboat
09.00 – Arrive at Nusa Penida and Start the tour
10.00 – Visit Atuh Beach
11.30 – Visit Diamond Beach
12.30 – Visit Tree House Molenteng
13.30 – Enjoy Lunch
14.30 – Lunch Finish and continue the tour
15.30 – Visit Telletubies Hill
16.00 – Go to nusa penida port
17.00 – Arrive at nusa penida port and go to sanur port by using speedboat
18.00 – Arrive at sanur port and back to hotel
19.00 – Arrive at hotel
West Nusa Penida Tour
Nusa Penida has been known for it's beautiful scenery and beautiful beaches, especially in the western part of Nusa Penida. Our trip will begin from your hotel and drive to sanur harbour where is the speed boat from, cruising 30 minutes only by speed to get nusa penida. when we arrived there our guide already waiting for us and ready to explore the island.


Itinerary:
Crystal Bay
Broken Beach
Angel Bilabong
Klingking Beach
Back to Hotel
Angel's Billabong
Angel's Billabong is often included in the list of recommendations for anyone on vacation to Bali, especially when crossing to Nusa Penida Island. Indeed, even though you have to cross to Nusa Penida to visit Angel's Billabong, you certainly won't regret having to 'go to great lengths' to be able to enjoy amazing natural treats while there.
Broken Beach

Broken Beach (Pasih Uug) is a scenic coastal formation on the southwestern edge of Nusa Penida island. The spot is marked by a hilly arch-like rock formation, which is the distinguishable landmark of the area. Set over the crashing waves of the open Indian Ocean, Broken Beach is a great spot for travel photographers and panoramic view seekers. The adjacent area is also home to grey long-tailed macaques. If you're lucky, you may spot silhouettes of giant mantas near the surface of the deep blue water.

Klingking Beach
This is the view of Klingking Beach, taken from above (Klingking secret point). Klingking Beach is located on Nusa Penida Island, a famous island near Bali. You will have to cross to Nusa Penida Island using fast boat from Bali. As you reach the island, you can rent motorcycle for a day. The journey to Kelingking Secret Point will take 30 minutes from the port. Please be careful as the road is still rocky and undeveloped, however during this rocky trip you will also be enjoying the stunning atmosphere Nusa Penida offer you. As soon as you arrive to this secret point, don't forget to take photos with your loved ones or just to take the great landscape photo just like this picture! This secret point has a pura nearby called Pura Paluang.
Crystal Bay
Crystal Bay is located on the west side of Nusa Penida. The bay is a popular tourist destination. The beach is jotted by lonely palm trees. One can rent umbrellas, chairs, snorkel gear, and light refreshments. Just outside the bay there is a big rock, a small island even, which can be used as a point of reference, especially under water. The snorkeling here is considered some of the best on the island due to the clarity of the water with eels, Napoleon fish, parrot fish, seasonal turtles, and brilliant coral.
Bali West Nusa Penida Tour Packages Itinerary :
06.30 – Pick up at the hotel (defend on your hotel location)
08.00 – Arrive at Sanur Port and go to Nusa Penida by using Speedboat
09.00 – Arrive at Nusa Penida and Start the tour
10.00 – Visit Angel Billabong
11.00 – Visit Broken Beach
12.00 – Visit Kelingking Beach
13.00 – Enjoy Lunch
14.00 – Lunch Finish and continue the tour
15.00 – Visit Crystal Bay
16.00 – Go to nusa penida port
17.00 – Arrive at nusa penida port and go to sanur port by using speedboat
18.00 – Arrive at sanur port and back to hotel
19.00 – Arrive at hotel
Remarks :
The price quote per person for minimun booking 2 person
Child below 4 years old is free of charge
For Single or Solo Traveler will have additional charge 50%
For booking more than 6 person, please contact us for special price
Bali West Nusa Penida Tour Price Included :
Comfortable Return Transfer to Port with Private Car
Ticket Return Transfer Speedboat to Nusa Penida
Private Car with Good A/C during tour in Nusa Penida
English Speaking Driver
Petrol
Entrance Fee to all site
Lunch In Restaurant
Mineral Water (1 bottle/person)
Area Covered for Pick Up :
Seminyak, Legian, Kuta, Nusa Dua, Jimbaran, Pecatu, Sanur, Ubud, Canggu, Denpasar, Benoa Harbour, Airport
Please contact us for pick up in different area
Terms Payment
Payment is Cash Payment
Payment is on the day itself with our driver
Payment with other currency will convert based on daily exchange rate